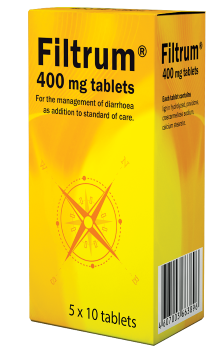 FILTRUM®: INSTRUCTION ON USE
Registration number of the drug Filtrum®: R No. 001189/01
Active substance: 0.4 g. of hydrolyzed lignin
Pharmacotherapeutic group: enterosorbent
In the light forms of infections Filtrum® may be used as the main means of treatment, without the use of antibacterial drugs. There are no known side-effects. It does not harm the mucus of GIT.
USED FOR TREATMENT OF:
Acute alcoholic poisonings;
Acute intoxications with drugs, alkaloids, salts of the heavy metals and other poisons;
Food toxic infections, salmonellosis, dysentery;
Dyspepsia;
Pyoinflammatory illnesses, accompanied with significant intoxication;
Hyperbilirubinemia and hyperasotemia (liver and kidney insufficiency);
Food and drug allergies;
Prophylactics of chronic intoxications in workers of hazardous industries.
HOW TO TAKE FILTRUM®
The drug is administered 3-4 times a day, the dose of the drug depends on age, body mass.

FOR CHILDREN
under 1 year old ½ of the pill
1-3 years old - ½ - pill
4-7 years old - 1 pill
7-12 years old - 1-2 pills

FOR ADULTS
2-3 pills
The duration of treatment for acute conditions is 1-5 days, for allergic and chronic intoxications up to 14-21 days.
Filtrum may be used in complex therapy with other drugs, under medical supervision.
Sold in drugstores: Without prescription. More on Filtrum® (instructions, price, etc) you can find in medicinal information services and the patient information leaflet.