FUN WITHOUT THE HANGOVER
HOW TO DECREASE THE RISK OF ALCOHOL POISONING:
Consume only moderate amounts of high quality alcoholic beverages. "Standard alcohol dose" is 10 g calculated in ethanol (12.67 ml). It is recommended to take no more than two "standard doses" a day.

Do not consume alcoholic beverage on an empty stomach. Food decreases the absorption rate, thus the alcohol's negative effect.

Avoid Carbonated drinks after consuming alcohol.

Avoid mixing different alcoholic drinks.

Mixing alcohol with certain medications is contraindicated.

If you are going to drink alcohol, make sure you have Filtrum® handy, just in case.
ALCOHOL PROCESSING IN THE BODY



80-90% of alcohol is oxidized in liver, which leads to damage of its cells

5-15% is biologically transformed in lungs, kidneys, and other tissues

About 5% is discharged from the organism in unchanged form within 7-12 hours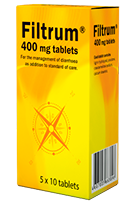 Drink water every 10-15 minutes

Take 2-3 pills of Filtrum® 3-4 times per day

Consult with physician