FOOD POISONING WITH DESERTS:
HOW TO DECREASE THE RISK:
Deserts, sweets and cakes with cream should not be stored, but consumed the soonest after cooking.

If term of storage is over for the purchased food, it is best to throw it away, as sad as this is.

Store sweets with cream only in the refrigerator in a closed box.

When buying desert, look where it has been stored. If it was not in the refrigerator – better avoid such purchase.

If you have an inflamed wound on your hand, ask someone else to make desert.
The most common cause of food poisoning with deserts is staphylococcus, more precisely, the toxin it produces.
Normally, staphylococcus gets into the food from the chef (skin, sneezing, coughing, etc.). Staphylococcal toxin does not alter the taste or the aroma of food. It is resistant to heat and may sustain temperatures of 100°C for up to 2 hours.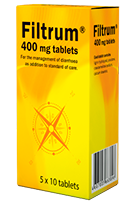 Drink water every 10-15 minutes

Take 2-3 pills of Filtrum® 3-4 times per day

Consult with physician